22.08. 20:30
The Factory is Ours!
22.08. 20:30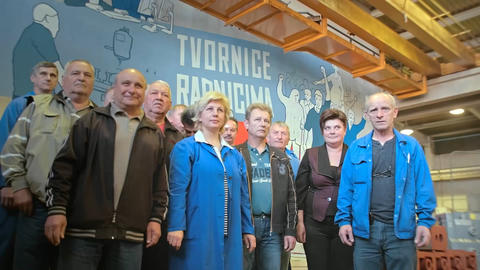 Title: The Factory is Ours!
Year of production: 2016
Duration: 45`
Director: Vedrana Pribačić
Screenwriter: Vedrana Pribačić
Camera: Mario Marko Krce
Sound: Daniel Golem
Editing: Ema Carić
Music: Nema glazbu
Producer: Ana Radečić
Synopsis:
During the 90's, Croatia gained independence from Yugoslavia and turned to capitalist economy. Companies that was once public ownership had to be transferred quickly into private hands. ITAS Prvomajska factory was just another example of how new owners operate: destroy the production, lay off the workers, sell the factory property and earn millions. Legal strikes of ITAS workers had no success so two hundred of them occupied the factory, escorted the new owners outside, organized a day and night watch to preserve factory assets. They went into hunger strike until the fulfillment of their conditions. After 11 years of fighting, they managed to buy the factory themselves. They use ESOP system in which every worker owns company stocks which gives him the power to manage the company business.